---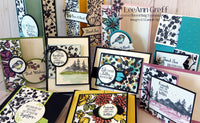 I'm so excited about this tutorial! With this easy cutting template you can create 10 unique 'fun-fold' cards using 1 sheet of 12X12" designer series paper! You'll also receive two more cutting templates for White and Black card stock. Choose the paper to fit the occasion! Use a different designer paper to create a whole new group of cards!
The pdf tutorials include photos, step by step directions, products and measurements for each card.
"Thank you for offering these tutorials, LeeAnn. They're always well done with clear instructions and photos!"
"I love your technique class tutorials! I appreciate the measurements and detailed directions. Keep them coming!"