---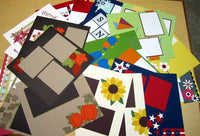 Do you usually feel behind in your scrapbooking? I think most of us do. Well I can help you with that! I am sooo excited about these pages! I set out to create a year of 12" layouts - one double layout for each month of the year!
I have created a tutorial for you so you can make your own pages like mine. It's $9.00 for the 16 page tutorial and includes step by step directions, measurements and a supply list. It's completely Stampin' Up! with the exception of a few page titles; those are pre-made in color and included in the tutorial for you to print out.
My goal in creating these pages was to get beautiful, eye-catching layouts that are also quick and easy to make. They all have photo mats so you can easily cut your photos to size.
To make your pages like mine you will need a Big Shot, various dies including the Typeset alphabet set or something similar. Also you'll need a few SU punches, stamps and ink.
This tutorial is also perfect for a SU demonstrator too - it's all ready for you to create for your classes!