---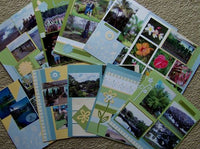 I did it! I knew there had to be an easy way to use our Simply Scrappin' kits to create a whole scrapbook without having to think & plan each page.
I made my Hawaii trip scrapbook in less than a day with this plan & the Sunshine Garden SS kit!
And it also includes where to add your photos!Talk about easy, easy scrappin'!!
I created an easy cutting template for the six 12" sheets of Designer papers included in the SS kits along with sketches on where to adhere them on each of the 12" pages. As far as I know, this has never been done or shared by anyone before!I added two 12" sheets of card stock to the kit to get twenty 12" pages from one kit. This includes using the backs of each page also, which works so well with clear page protectors. This reduces bulk & eliminates card stock waste. I also added 4 sheets of assorted 8 1/2 X 11" card stock to use in layering & for die-cut alphabets (used on only two pages). If you do not have a die-cutting machine (like my Big Shot!) you could use stickers, stamps or chip board.
You'll still add your own creativity & personality. The sketches are a guide on placement - you add the finishing touch with the die-cut adhesives that are included in each kit. And I even have left-overs of those! I think you could make even more pages if you added more card stock!
I am offering this amazing & easy 'Scrappin' 6 Sheet Wonder' plan for just $7.50 via PayPal for long-distance customers. It is a pdf of 8 pages with the following: instructions, a cutting guide template, sketches for each page, supplies list & photos of my completed pages.
My Plan isn't just for our Simply Scrappin' kits. It would adapt easily to any six 12" sheets of patterned paper you choose to use. You can change up the theme to be whatever you need! Think - baby, wedding, holiday, vacation or even your child's school years. I plan to make my Wedding album as soon as my next SS kit arrives. I've wanted to do this for years, but put it off because I thought it would take so much time. Well not with this Plan! I know all I need is a few hours to get it done..... finally!
Here are a few of the comments I've received:
I just wanted to let you know how much I love it!
This plan made it so easy to make my vacation scrapbook; thank you!